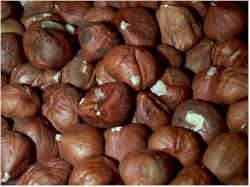 Our pastor's wife gave us some deliciously toasted local hazelnuts. She also gave me some raw hazelnuts to turn into hazelnut butter for her family to try. I just finished toasting the raw hazelnuts using her directions, which are:
Roasted Toasted Hazelnuts
Preheat oven to 275 degrees. Spread raw (shelled) hazelnuts out on a baking sheet in one layer. Roast for 20 to 30 minutes. Start checking after 20 minutes. The color will deepen. They will be soft because of the heat, but will crisp up when cool. Remove from baking sheet to cool.
Eat plain, mixed up in a trail mix, or grind up in a food processor or Vita-Mix to make roasted hazelnut butter.
This post may contain affiliate links. We only recommend products and services we wholeheartedly endorse. Thank you for supporting Traditional Cooking School by GNOWFGLINS with your purchases. Our family thanks you!